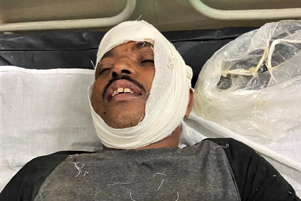 A church leader in Sehore, Madhya Pradesh, was beaten and then run over by motorcycles, leaving him seriously injured. Pastor Isaac Paulose had just dropped off his young son at school on March 4th when a motorcycle stopped in front of his car and he was ordered out of it. Ten assailants on five motorcycles then beat him with chains and rods before running over him. After the hit and run incident, he was taken to hospital with multiple fractures and head injuries.
The attackers accused Pastor Isaac of converting people to Christianity. During the assault, they taunted the church leader and threatened to kill him if he continued in ministry. A police report has been filed, but he was unable to give any assistance by identifying his attackers. The pastor's wife said that she was initially shaken by the attack, but the Lord has given her peace and strength. She expresses thanks to those who are praying about the situation.
Pastor Isaac and his father have been involved in ministry for many years and this is the first time they have faced violent opposition. While forcible conversion is illegal in Madhya Pradesh, leading others to faith in Christ is not. The pastor insists that he has never been involved in any type of inappropriate conversions.
Pray that Pastor Isaac and his family will continue to experience God's peace which surpasses all understanding (Philippians 4:7). May those responsible for the assault be identified and brought to justice. Of even greater importance, ask the Lord -- who knows the identity of the perpetrators -- to reach out to them in grace so they will have an opportunity to turn in faith to Him. Pray that the ministry outreach of Pastor Isaac and other Christian leaders will continue to grow in Madhya Pradesh, and that believers will be further strengthened in their faith.