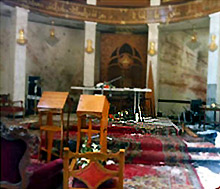 Our Lady of Salvation church after the attack
Photo from Ankawa.com
On October 31, at least 46 Christians were killed and more than 80 others severely injured when Islamic militants stormed the Syriac Catholic Cathedral of Our Lady of Salvation in Baghdad's Karrada district during Mass. The gunmen, armed with automatic weapons and explosives, entered the building and demanded that the Coptic Church of Egypt release Iranian women, whom the extremists claim voluntarily converted to Islam and were locked up by the church. The men then shot a priest and began spraying the crowd with bullets. Hours of terror, confusion and bloodshed followed.
One of the gunmen reportedly called a local TV network during the siege. He said he was part of the Islamic State of Iraq, a group linked to al-Qaida, and demanded the release of the Muslim women within 48 hours. After four hours, security forces stormed the church and put an end to the hostage situation.
Later that evening, a cryptically worded statement that appeared to claim responsibility for the attack was posted on a website belonging to the Islamic State of Iraq. The statement said that an "angry group of mujahideen from among the supporters of Allah raided one of the filthy dens of idolatry that was used by the Christians of Iraq as a headquarters to fight the religion of Islam." The group also stated that it would "exterminate Iraqi Christians," if the Muslim women in Egypt were not freed.
At press time, the total number of causalities from the attack was still being confirmed. Most reports indicate that 58 people were killed and at least 80 injured.
Pray for God's abiding comfort for those mourning the loss of loved ones. Pray that even in the aftermath of this brutal violence, Iraqi Christians will keep their eyes on Jesus, persevere in their faith, and not grow weary or lose heart. (Hebrews 10:32-39; Hebrews 12:1-3). Pray for peace and stability in Iraq.
For more information on the suffering of Iraq's Christian community, go to the Iraq Country Report.