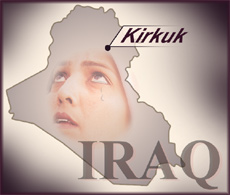 A 29-year-old Christian man was recently tortured and killed by members of al Qaida in Kirkuk, Iraq. On May 13, Ashur Issa Yaqub was kidnapped. His captors reportedly demanded $100,000 for his release. Three days later, his body was recovered, bearing marks of brutal torture. According to a local pastor, his kidnappers had reportedly pressured Ashur's employer to fire him because he was a Christian. "Because the contractor was rich and they couldn't do anything to him, they kidnapped Ashur, and unfortunately they killed him," the pastor said. Ashur leaves to mourn a wife and three children.
Pray Ashur's widow and children will know the peace, presence and comfort of Jesus. Pray Christians in Kirkuk will look to Christ for strength and continue to walk His path of faithful perseverance. Pray those responsible for the murder will know the Spirit's conviction of sin and the Father's offer of forgiveness, and turn to new life in the Son.
For more on the suffering Church in Iraq, go to the Iraq Country Report.