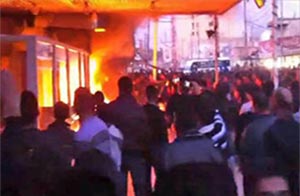 Burning of mostly Christian-owned shops in Zakho
shocked residents of Iraq's Kurdish region.
Photo: YouTube image from Compass Direct News

Christian-owned businesses were burned to the ground earlier this month as unprecedented violence erupted against Christians in Iraq's Kurdish region. Local sources say the attacks were organized by a pro-Islamic political party. The attackers waved flags that said, "There Is No God but Allah," according to Ankawa News.
A sermon by a mullah claiming there was moral corruption in the northern town of Zakho seemed to be the trigger for a group of young Muslim men to attack the businesses, according to the news outlet. The following day, two more Christian neighbourhoods were attacked with businesses being burned, and the attacks, reportedly organized by the Kurdistan Islamic Union party, continued in other nearby regions for several days as well.
Pray that God will sustain and encourage believers who lost property in these attacks. Pray for lasting peace in this area. Pray that increased persecution will result in increased boldness among believers in Iraq (Acts 4:29-31).
Go to the Iraq Country Report to learn more about Iraq's suffering Church.