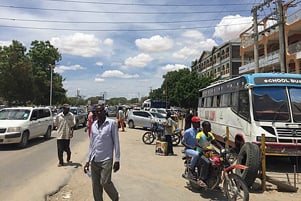 An underground pastor in eastern Kenya, near the Somali border, was severely beaten on the night of March 8th. Muslim militants assaulted him with wooden clubs, leaving him unconscious and with a broken leg, bruises and other injuries.
Pastor Abdul (surname withheld for security reasons) is a 30-year-old father of three. He serves as pastor to an underground church consisting of 30 former Muslims who, for safety, meet in small groups on varying days. He was on his way home after a prayer gathering on the outskirts of Garissa when several Somali Muslims attacked him. Most ethnic Somalis believe that all people of their nationality must adhere to Islam.
Speaking from his hospital bed, Abdul stated: "I'm almost unable to bear the pain. My family is in great fear, and Christians have located us to another place. Our prayer for now is to get a safe place for my family. My life, and that of my family, is at stake."
Please pray for the safety of Abdul and his family. May the Kenyan authorities be able to maintain peace and safety for all citizens in this volatile area of their country. Ask the "Great Physician" to minister to the wounds Abdul incurred during the attack so they will heal quickly and completely. May the Lord also enable him to continue fulfilling his pastoral ministry in the new location, providing further opportunities to reach others with the salvation message. Pray that the Somalis living in eastern Kenya will personally experience the love and grace of Christ and, as a result, turn to Him in faith.