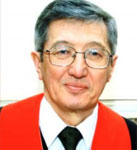 Bakhytzhan Kashkumbayev
Pastor Bakhytzhan Kashkumbayev, who leads Grace Church in Astana, was arrested May 17th on criminal charges for allegedly "harming health" and has subsequently been detained. The "evidence" justifying his detention appears thin. Lyazzat Almenova, on whose health the authorities claim to be basing their case, has written to the Astana Prosecutor's Office to say she is psychiatrically healthy. "The authorities forcibly put me in a psychiatric ward," Lyazzat says, "in order to disregard my appeals and petitions in favour of Pastor Kashkumbayev...who is totally innocent and has not harmed my health at all."
The arrest of the pastor was supposedly part of a continuing police investigation initiated by a July 2011 complaint from Lyazzat's mother, whose allegation church members have vehemently denied. As part of this action, two raids on Pastor Kashkumbayev's church and on the unrelated New Life Church in Oral (Uralsk) took place in October 2012. Numerous hostile media articles were also published, attacking the church for supposedly administering drugs (in reality, a non-alcoholic Communion drink) to its members. District prosecutor Alen Tlenchiyev argued that the accused has committed a serious crime because he "prayed for the sick and psychologically influenced" church members.
On July 18th, Pastor Kashkumbayev stated in written complaints to national and international bodies, including the United Nations (UN) Human Rights Committee, that "though I am 67 and cannot boast of ideal health since I had a serious heart attack in 2011...I am psychologically healthy." He also expressed fear in his complaint: "In order to make me mad, they will inject me with special substances. It will not take much for the authorities to make me a 'vegetable'.... I am begging you to protect me."
His son Askar and other members of Grace Church believe that one reason for the authorities' use of psychiatry could be "an attempt to humiliate him in public eyes, and damage the image of the church." Other reports of persecution can be found at the Kazakhstan Country Report.
Our Heavenly Father assures His people in Romans 8:28 that "all things work together for good to those who love Him," including "things" such as the vicious attacks of the enemy. May the media exposure and accusations serve to heighten curiosity and bring about a greater awareness of God in the eyes of the general public. May those whose hearts are genuinely seeking truth discover it through this very situation. Also pray for the Lord's divine protection over this persecuted pastor and his congregation. Like Daniel, may Pastor Kashkumbayev be protected spiritually, mentally, physically and emotionally, emerging from the fiery furnace of affliction totally unscathed and as a powerful witness of God's salvation and deliverance.