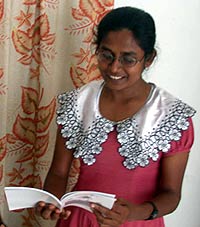 Sister Ayesh
One of the pastoral workers on trial
The NCEASL reports that the court case against four female pastoral workers from Assemblies of God Church in Kotadeniyawa is scheduled to continue on June 6, 2005. These ladies were attacked by a mob of men who broke in to their house in during the night in September 2003 and then falsely accused them of being prostitutes. Later they were charged with breach of peace. The court hearing has been going on for some time.
The NCEASL asks that we please pray for them as they give evidence in court. Pray also for their lawyers, the judge and the prosecution attorneys; for justice to prevail; that these women of God will not be humiliated before the court.
In late 2004, The Voice of the Martyrs produced, in partnership with the NCEASL, a 30-minute documentary on the current situation facing Sri Lanka's Christians. The story of these women is included on this video. To order a copy online, click here. A preview of the video is also available in the Video section of www.vomcanada.com.