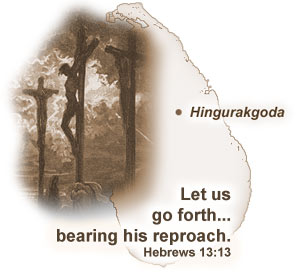 On the night of October 13, a prayer centre in Hingurakgoda, Sri Lanka was vandalized and set on fire, according to a report from the National Christian Evangelical Alliance of Sri Lanka. The unidentified assailants stole a keyboard, carpet and mats, desecrated the interior of the building with human waste and then lit Bibles and hymnals on fire. The fire did not spread throughout the building. The pastor and his wife, who usually sleep in the building to protect the premises, were gone that day and had left the building unattended.
Pray that the church in Hingurakgoda will find strength in their circumstances as they wait on the Lord (Isaiah 40:31). Also pray that there will be no further attacks.
For more information on persecution of Christians in Sri Lanka, click here. You can order "Faith Under Fire: Sri Lanka," an in-depth video report the persecution of Christians in Sri Lanka, through our online bookstore.