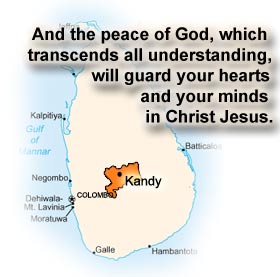 In the latest of a spate of attacks on Christian churches this month, the Lighthouse Church -- located in Mawatura, Gampola in Kandy District -- was attacked on November 22. According to a November 23 report from the National Christian Evangelical Alliance of Sri Lanka, the pastor and a church worker were inside the building when they heard an explosion and the shattering off glass coming from the front of the building at approximately 8:00 p.m. Rocks shattered the front window and came through the roof. Some of the rocks hit the church worker on the head, causing him to bleed profusely. He was rushed to a local hospital for treatment.
Pray that the attacks on Christians in Sri Lanka will cease. Ask God to give the church worker healing. Pray that Sri Lankan believers will be encouraged to continue to meet together despite opposition (Hebrews 10:23-25).
For more information on the persecution of Christians in Sri Lanka, click here.