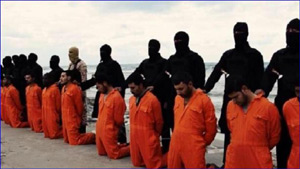 Video screen shot of kidnapped Christians
before their deaths.
Photo: AINA


The Christian community in Egypt is in mourning after 21 Egyptian Christians who had moved to Libya for employment were brutally murdered by members loyal to the Islamic State (ISIS) militant group. Those involved with ISIS posted a video on February 15th showing the savage decapitation of the victimized men. The video, titled "A message signed with blood to the nation of the cross," makes it clear that the men were targeted because of their faith. Additionally, a caption in the video describes the victims as "people of the cross, followers of the hostile Egyptian church."
The believers had been kidnapped around the Libyan city of Sirte in separate incidents during the months of December and January. On January 12th, the Libyan branch of ISIS released a statement that they were holding the Egyptian men in captivity. (For more information about these abductions, you can read our previous prayer alert.)
The murdered Christians came from villages in Egypt's central Samalut region in northern Minya. This region suffers from high poverty rates due to a lack of job opportunities, causing many inhabitants to move to other Arab countries in search of work. According to eyewitnesses, the friends and family members of the victims were visibly traumatized upon hearing the shocking news of their loved ones' deaths.
Please join with us in upholding all those who are now mourning the loss of these dear Christian men, bringing our petitions to the throne of our merciful Abba Father. Pray that His peace will greatly comfort them during this difficult time of tragic loss and that His healing will be ministered to their wounded hearts. As they face each new day, may they turn to Jesus for courage, sensing His great compassion as church members come alongside to lovingly shoulder some of their overwhelming grief. Intercede on behalf of the governmental leaders involved, asking for wisdom and discernment in their attempts to end the terror of ISIS. Please also remember in prayer the many other impoverished Egyptian Christians working in Libya, asking the Lord to protect and sustain each one.