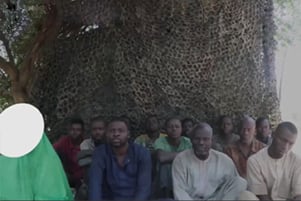 In a video released on December 26th, ISIS shows the murder of eleven Christians, claiming that it was committed in retaliation for the death of Abu Bakr al-Baghdadi, the ISIS leader who died during a raid in Syria by U.S. special forces in October.
In the video, which had Arabic subtitles, eleven men with their heads covered are shown. The first is shot to death, followed by the beheadings of the other ten. The producers of the video claim that all of the slain victims had been captured in Nigeria's Borno State in recent weeks. The voice-over commentary contained the following announcement: "This message is to the Christians in the world. Those you see are Christians and we will shed their blood as revenge."
A previously recorded video was also recently released featuring eleven Christians who had been taken captive, leading to speculation that these may be the same men. In the earlier video, the men pled for intervention by the Nigerian government and the Christian Association of Nigeria. At the time, they claimed that Leah Sharibu was still alive and with them (read this report).
Pray for the concerned families and friends of all those captured by Boko Haram and other militants in Nigeria, some of whom are now faced with the uncertainty of whether their loved one is alive or not. Ask God to grant the country's authorities wisdom, assistance and guidance in their attempts to stop the rampant violence in Nigeria. Continue to remember the victims who are remaining in captivity.