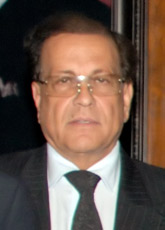 Governor Salman Taseer
The governor of Pakistan's Punjab province, Salman Taseer, was killed by his own bodyguard in Islamabad on January 4, allegedly because he spoke out against the country's controversial blasphemy law.
Interior Minister Rehman Malik said the guard told police that he killed Taseer because of the governor's opposition to Pakistan's blasphemy law. Taseer recently made headlines for speaking out against the law, which was used to sentence Asia Bibi, a Christian woman, who was convicted of insulting the Prophet Muhammad. Friends of the governor say he knew he was risking his life by speaking out.
Pray the Lord will use the work of Salman Taseer for His good purposes and for the benefit of the Church in Pakistan. Pray there will be great support for reform. Pray the Lord will raise up other leaders who are willing to speak up for the Christian minority in Pakistan.
For more on believers suffering for serving Christ in Pakistan, visit the Pakistan Country Report.