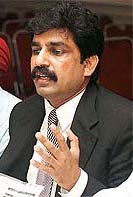 Shahbaz Bhatti
VOM sources in Pakistan are reporting that Pakistan's Minister of Minority Affairs, Shahbaz Bhatti, was assassinated March 2 while on his way to work in Islamabad. This is the latest attack on a high-profile Pakistani figure who had urged reforming harsh blasphemy laws that impose the death penalty for insulting Islam. Bhatti was on his way to work when unknown gunmen riddled his car with bullets. The minister arrived dead at Shifa Hospital.
No group immediately claimed responsibility for the attack, but private Pakistani TV channels showed pamphlets at the scene of the killing that were attributefd to the Pakistani Taliban warning of the same fate for anyone opposing the blasphemy laws. An eyewitness saw three gunmen open fire on Bhatti's car as he left his house. The gunmen then sped away in a car. It was not immediately clear why Bhatti, a member of the ruling Pakistani People's Party, did not have bodyguards with him.
In recent months, Bhatti boldly defended Asia Bibi, a Christian woman sentenced to death for blasphemy. After the killing of Salman Taseer, Governor of Punjab, whom Islamic fundamentalists blamed for having defended Asia Bibi, Bhatti became the radicals' "top target." Bhatti was in Canada just last month, meeting with Prime Minister Stephen Harper and several cabinet ministers during his visit to Ottawa. According to a spokesman for the prime minister, the men discussed the importance of standing up for the rights of religious minorities.
Thank the Lord for the life of Shahbaz Bhatti and his attempts to change Pakistan's blasphemy laws. Pray the Lord will bring comfort to his family in their time of sorrow. Pray the Lord will not allow Pakistani believers to be discouraged, but to be emboldened in their faith, putting their trust in the everlasting God.
Find out more about the intense persecution of Christians in Pakistan at the Pakistan Country Report.