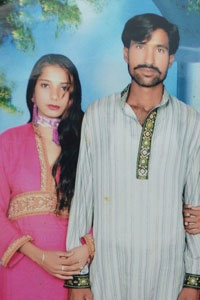 Shama and Shahzad
A young Christian couple, Shahzad Masih and his wife Shama, were brutally murdered on November 4th over an unfortunate misunderstanding.
According to an on-the-ground report from the European Centre for Law and Justice in Pakistan, Shama, an illiterate mother of four who was in her second trimester of pregnancy, inadvertently burned pages of the Quran. The landlord, informed by neighbours that she had burned the Quran, locked the couple in his office, beat them, and offered them freedom to escape for a fee they couldn't pay.
In the meantime, passersby became aware that a Christian couple was being held for burning the Quran. Outrage ensued. Word reached the village mosque and spread quickly. An enraged mob consisting of hundreds of militant Muslims converged on the kiln premises, breaking into the office and attacking the couple. Reports vary whether the mob killed the couple and then burned their bodies, or whether they beat the couple unconscious and burned them alive.
According to a BBC report, news of the incident reached Pakistan's prime minister who called the murders "an unacceptable crime." An outcry also ensued with approximately 200 Christians and human rights workers gathering in protest to demand that blasphemy laws be abolished. To date, police have arrested more than 40 suspects who are to appear in court for the tragic murder of this couple.
VOMC's Greg Musselman was recently interviewed by Mission Network News about this tragedy and to discuss the escalating persecution of Christians in Pakistan. To read this interview, click here.
While we know that Shahzad and Shama, God's precious saints, are now with Him in His eternal presence, please pray for their four young children who are consequently left orphaned: Solomon, Zeeshan, Sonia and Poonam. May the Lord's peace and comfort surround these precious children, as well as their extended family members who are trying to give them the courage and hope they need to go on. Please pray that the laws in Pakistan would be changed to protect its citizens, and that those responsible for this brutal crime will be quickly brought to justice. Also ask that our Living God will surround His people in Pakistan with a wall of protection against such vigilantes, and that even in the midst of discrimination and hatred, many more men, women and children would turn to Him.