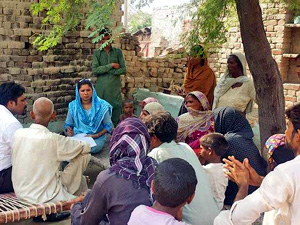 Pray for protection and fair treatment of all Pakistani citizens.
Photo: Barnabas Fund
Police in Pakistan recently detained a believer who was accused of "blasphemy" by business rivals. In their search for him, they had also physically beaten several local Christians. Allegations against Pervaiz Masih, 35, arose after he won a contract to supply sand in Garra village, Kasur district. Hundreds of Muslims took to the streets and threatened to burn him alive.
When Pervaiz went into hiding, police raided several Christian homes in their attempt to find him. During the process, they beat and insulted the local believers, including a pregnant woman and a mother of a newborn baby. Authorities also detained two of the accused's brothers temporarily. Pervaiz later surrendered himself to police and is now being held in the district jail.
Authorities reportedly announced that Pervaiz has confessed to the charges against him. However, local Christians insist the allegations are false and that his "confession" has been extracted under duress. Recalling the murder of brick kiln workers Shahzad and Shama Masih last year, the detained man's family has had to flee Garra. For a previously posted report on this earlier incident, click here.
Please ask God to protect Pervaiz and his family, as well as the 15 to 20 other Christian families in Garra village, most of whom are poor farm labourers. May appropriate action be taken to ensure that the Punjab police uphold the rights of all citizens, including minority Christians. "The Lord is good, a stronghold in the day of trouble; and He knows those who trust in Him." (Nahum 1:7)