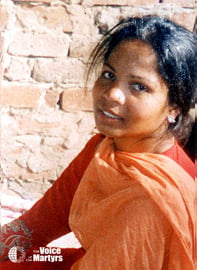 Asia Bibi was arrested in 2009 after a disagreement with Muslim co-workers. She was convicted of blasphemy against the Prophet Muhammad and sentenced to death. She has appealed to the Supreme Court of Pakistan and is currently waiting for the court to hear her case.
Asia has been in jail for more than seven years, separated by walls and bars from her husband and daughters. She has been threatened in jail, and must often cook her own food as a precaution against the possibility of poisoning. Yet she has tenaciously held onto her faith in Christ. VOM Canada's previously posted reports on Asia's case are available here.
Asia is one of many Christians who are imprisoned around the world because they follow Jesus rather than the edicts of their government or captors. They call out to God each day, and we can join in calling out to God on their behalf. Other reports relating to persecution of believers in Pakistan may be accessed by going to our online country report.
Pray that Asia and her family will remain strong in their faith. As they await the upcoming appeal hearing, may they be sustained with the loving-kindness, protection, peace and presence of God. Ask Him to use Asia's testimony in wonderful ways -- serving as a witness for Christ to guards, officials, prisoners, members of the community, and many others in Pakistan and around the world. Also uphold the legal team and judicial authorities as the appeal is prepared for presentation in court, praying that they receive divine wisdom and protection against the threats of those opposing Asia and her Christian values.