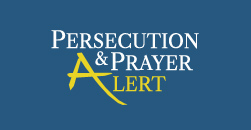 Ongoing Harassment in Russian-Occupied Territories (Ukraine)

2022-09-29

The church in Chkalovo, Melitopol district.Photo: VOM Korea As Russian forces continue their invasion of Ukraine, referenda have been held in regions of the country presently occupied by Russian soldiers. Widely dismissed as a "scam," the referenda seek to demonstrate that the people of these...

Dozens Kidnapped from Two Church Services (Nigeria)

2022-09-29

A Nigerian church service. Photo: Flickr / SIM USA (cc) Suspected Fulani herdsmen stormed a church in Suleja, Niger State, in the early morning of September 17th. Several of the church members who had gathered for an...

Christian Father and Son Slain by Terrorists (Egypt)

2022-09-29

A Coptic church. Photo: Flickr / jipolo (cc) A Christian man and his elderly father were shot dead by Islamic terrorists on August 30th while working in their field. Police found the bodies of 40-year-old Hani Waheeb Moussa and his father Salama after family members had lost contact with them....