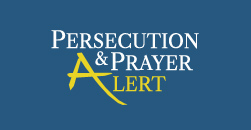 Pastor Fined for Conducting Baptisms (Belarus)

2022-08-11

Pastor Dmitry Podlobko Photo: Living Faith Church via Forum 18 In October 2021, the Living Faith Church in Gomel, Belarus, was in need of a place to perform baptisms. Without the necessary facilities, the registered congregation gathered at a local river to hold the service. However, the law...

Wives Detained as Church Leaders Face Trials (China)

2022-08-11

Pastor An, his wife, Yao Congya, and their children. Photo: Facebook via ChinaAid In January 2020, five Chinese Christians attended a conference in Malaysia. A year later, they were charged with "illegally crossing the national border," even though they had all the required legal travel...

Pastor Receives One-Year Sentence (Nepal)

2022-08-11

Pastor Keshav Raj Acharya Photo: Christian Solidarity Worldwide Pastor Keshav Raj Acharya of the Abundant Harvest Church in Pokhara, Nepal, has faced ongoing pressure from Nepalese authorities over the past two years. Initially detained in March 2020, he was accused of spreading false information about...