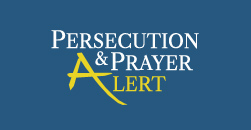 Pastor Tortured and Killed (Laos)

2022-11-24

Pastor Sy Seng ManeePhoto: Morning Star News On October 23rd, an evangelical pastor in Laos was found murdered after he had been kidnapped and badly beaten. His body was discovered near his motorbike in a forested area outside Donkeo village in Khammouane province.According to an eyewitness, three men...

Banking Access Blocked for Church (Kazakhstan)

2022-11-24

Talgar, KazakhstanPhoto: Wikipedia / Makvlad (cc) For the past five years, the New Life Pentecostal Church has encountered repeated problems while trying to gain access to banking services – to the point of the recurring situation being described as "incomprehensible." With no access, the church...

Trial for Teachers Rescheduled (China)

2022-11-24

In August 2021, four house church leaders were arrested for allegedly carrying out "illegal business operations" due to their involvement with a house church school in Wuhu, Anhui State. Two of the arrested Christians were later released on bail, but the others, Wan Hongxia and Wang Minghai, were...