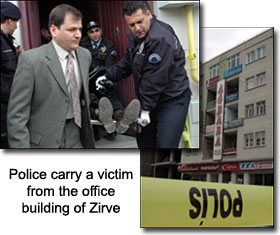 Photos from NTV
The Voice of the Martyrs learned this morning that the bodies of three people, including a German, were found with their throats slit at the offices of "Zirve," a Turkish Bible publisher in the southeastern city of Malatya. The victims were found with their hands and feet bound. Two of the dead were reportedly employees of the publishing house. A fourth man died after jumping from the third floor. Police are investigating to determine whether he was one of the assailants. According to Reuters, four people were detained in connection with the attack. One other victim has reportedly been taken to hospital with stab wounds. An official from the publishing house, which also prints other Christian literature, told local television that they had received threats over its publications.
Pray for those who are in hospital. Pray that God would comfort the families of those who have been killed. Pray for Turkish believers who are increasingly under attack.
For more information on the persecution of Christians in Turkey, click here.