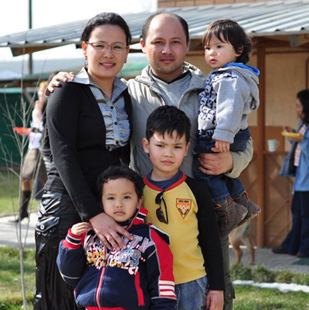 Makset Djabbarbergenov with his wife, Aigul, and
three sons in 2010. The couple now has four boys,
and is expecting a fifth child.
Photo courtesy of the Djabbarbergenov family
A Protestant pastor who was wanted in his home country of Uzbekistan for illegally teaching religion and distributing literature has been arrested by authorities in Kazakhstan, where he sought refuge in 2007.
The husband and soon-to-be father of five, Makset Djabbarbergenov, was detained after police held his sister-in-law for two weeks in an effort to uncover his whereabouts. The 32-year-old pastor faces up to three years in prison for each violation (for more, click here). A court in Kazakhstan has ordered that Makset be held in detention until the General Prosecutor's Office decides whether to send him back.
Please pray that Makset will not be extradited. Please pray that his growing family will remain united in Christ. Pray that Makset and his family will not be fearful but will trust God (Revelation 2:10). Pray that authorities in Uzbekistan and Kazakhstan will seek justice and truth in this case.
To learn more about the suffering Church in Uzbekistan, please visit the Uzbekistan Country Report.