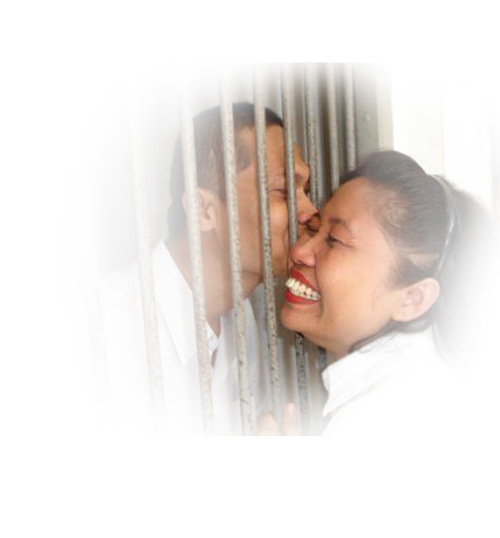 Your words are never wasted when it comes to writing a letter on behalf of the persecuted Church. Mail sent by concerned believers can have a profound impact on those who are suffering and even on those who are inflicting suffering upon others.
Your letters to prisoners can do five things:
Indicate to authorities that we are aware of a Christian's situation, and we care!
Testify of the love and unity found among followers of Jesus Christ worldwide. This is especially true when letters are opened and censored. God can use your letter to work in the lives of those in authority.
Prove our persecuted family is not forgotten. Through isolation and loneliness, the devil can prey on imprisoned Christians' faith. When a prisoner receives a letter, whether they can read it or not, they know someone cares.
Lead to better treatment of Christian prisoners.
Provide tremendous encouragement.
May I write in English?
Yes, you may write in English. Please print or write clearly. Your note must be legible to be translated. Many people study English, so there will likely be someone to translate your letter.
Who can I write?
VOM's letter-writing guide and Prisoners' List "Doing Time for God" provides up-to-date prisoner names and addresses alongside practical guidelines on how to write to prisoners. Click here to download the PDF document.
VOM's sister mission in the United States offers www.PrisonerAlert.com, an online resource that provides prisoner names and addresses along with a translation tool that offers you the ability to write to imprisoned brothers and sisters in their own languages.
What should I write?
Share your name and that you know about the prisoner's situation.
Be respectful and encouraging.
Tell prisoners that they are not forgotten and that you are praying for them.
Include a Scripture verse.
What should I NOT write?
Do NOT criticize a government or discuss politics, as this could place Christian prisoners in danger.
Do NOT include your mailing address. (You may state your name and country.)
Do NOT send money or respond to requests for money. Unscrupulous individuals, claiming to be the prisoner or a family member, occasionally steal letters and solicit funds.
Do NOT mention The Voice of the Martyrs or any other source of information.
Anything else I need to know?
You can send notes, postcards, bookmarks and attractive Christian greeting cards. Express your Christian love and mention that you are praying. You may also include a snapshot of yourself, your family or prayer group.
Please do not send your letters to VOM for mailing. The letters are more effective when officials see persons have sent them from many different parts of Canada.
Click here to download a PDF of our Advocacy Guide that contains sample letters, writing tips and other helpful links. Click here to contact our office if you prefer a hard copy mailed to you.
For address of prisoners, or to compose a letter of encouragement to an imprisoned Christian in his or her own language, please visit PrisonerAlert.com.