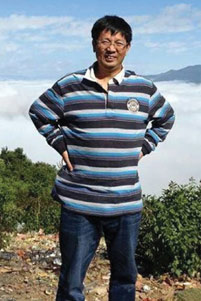 American pastor John Cao and his co-worker, Jing Ruxia, were detained in 2017 after being accused of "organizing illegal border crossings" between Myanmar and China (see our previous report). Pastor Cao was sentenced to seven years in prison and Jing to one year. Although the accused pastor has appealed the sentence, the hearing has been pushed back several times.
Last week, the hearing was scheduled for August 22nd. However, Pastor Cao's lawyer received notice on July 12th that there will be no hearing after all; instead, the lawyers must submit any arguments on paper by July 17th. The court would then consider the arguments and render a decision. ChinaAid founder Bob Fu has condemned the process as a "sham" and a "trial session on paper only."
Pastor John Cao, known by the name of Cao Sanqiang in China, is able to receive letters from fellow believers around the world. As he reads English well, please consider writing him a letter of encouragement -- assuring him of your prayers -- to the following address:
Cao Sanqiang
The Detention Center of Menglian County
Pu'er City, Yunan Province, China
665800
Before sending, please carefully read the listed guidelines for writing letters which can be found at VOMCanada.com/WritePrisoner.htm.
Thank you for upholding Pastor Cao during the difficult time of his incarceration. Pray that the appeal will be successful and that he will be able to resume his ministry to the Wa people along the Myanmar/China border, as well as the members of his church in North Carolina. As the Holy Spirit mediates on his behalf, may the hearts of China's judicial and governmental leaders be touched by God's divine presence and love. Since they are members of His beloved creation, He longs to have a meaningful relationship with each of them too!