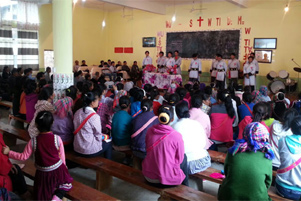 The pastor of a house church in China's Hubei province, along with two other women from the church, are facing charges of fraud because they collected offering money for their church. Officials claim that the church is illegal and its pastor does not have a legal ordination; therefore, they allege the money was collected fraudulently. The pastor, Hao Zhiwei, could face more than 10 years in prison if convicted.
The church is located in the city of Ezhou and has been ministering to the people of the community for 18 years. They were recently meeting in the same building as one of the official Three-Self Churches. Pastor Hao's husband died of cancer in 2018, and she has since been raising their two children on her own. All three women are being held without parole. For more details on the persecution of Christians in China, visit our country report.
Pray for the three arrested Christian women as they face these charges. Ask the Lord to also minister to Pastor Hao's children during this time away from their mother, as well as the members of the house church. May those responsible for the charges realize the harshness of their actions and take necessary steps to amend them. Despite the overall opposition of officials against Christianity, may believers in China continue reaching out with the Gospel of Christ.