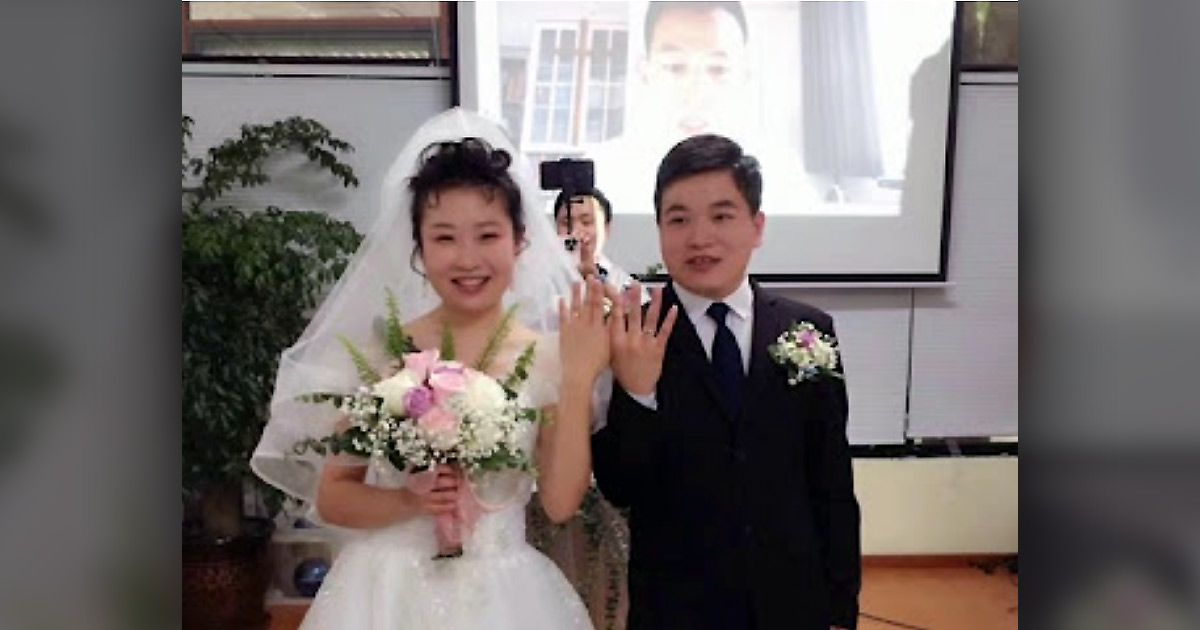 A recently published report outlined the opposition experienced by Zhang Qiang and Xiao Yue who were initially scheduled to wed on May 21st (see our previous report). Due to harassment from local Chinese authorities, however, these two members of the Early Rain Covenant Church were ultimately forced to postpone their wedding ceremony.
In hopes of continuing with their plans, the couple sought out a new venue and rescheduled their wedding to May 24th. Once again, that venue was forced to cancel their reservation because of pressure from the police. With assistance from others, the engaged couple found yet another location, but this time Pastor Dai Zhichao, who was scheduled to officiate the ceremony, was unable to attend in person due to surveillance from national security officers. The same was true for Elder Li Yingqiang. So the two church leaders joined the couple online for the event instead.
The wedding was opened with prayer from Elder Li, and Pastor Dai officiated the ceremony remotely. Only a few of the church members were able to attend because others encountered obstructions from the police. One member, Deng Yan, even found a wheel lock placed on her car to prevent her from attending. According to reports, though just a few of the congregants were able to join the celebration, "the entire wedding was filled with God's presence and grace."
Praise God that Zhang and Xiao were able to wed despite all the obstacles placed in their way. Pray that this newly married Christian couple will experience God's blessings on their lives and a great understanding of His wonderful love for them throughout the years ahead. May the members of the Early Rain Covenant Church continue standing firm in their faith, relying on the Lord for needed strength, perseverance and guidance in the midst of persecution.