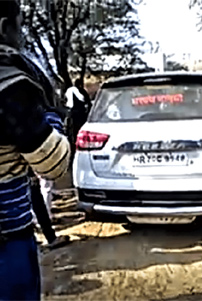 Pastor Jai Singh was part of a house church that had gathered for worship on January 5th in the village of Bichpari when a mob of 250 to 300 people surrounded the home. He was dragged to a school where he was beaten multiple times by different groups of people before being driven to a Hindu temple and forced to sit in front of idols. By the time the abuse was finished, his garment was covered in blood. After the assault, the perpetrators took Pastor Jai to a police station where he was left in severe pain.
Police took him to a hospital for treatment and then brought him back to the station where he, along with the owner of the house church meeting and other participants, were charged for allegedly offering money to convert people to Christianity. The pastor remained in custody until bail was granted two days later.
At last report, Pastor Jai was unable to walk and had difficulty remaining in one position for more than five minutes. An undisclosed Christian organization has provided medical assistance at a hospital in Delhi. For more information on the persecution of Christians in India, go to our country report.
Please pray for the complete healing of Pastor Jai and others who were injured in the recent attack. Despite the trend of increased opposition against the Gospel in India, pray that the country's believers will continue standing firm in their faith. Ask God to provide them needed protection and, through the ministry of His Holy Spirit, serve as their Comforter, Helper, Counsellor and Advocate. May the attackers recognize the love of Jesus being demonstrated in the lives of these Christians and, as a result, come to acknowledge Him as their Saviour.