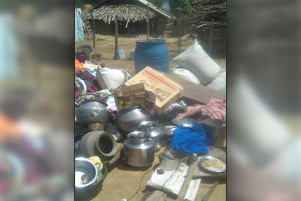 A Christian family in the village of Kodalmetla, Odisha, experienced the consequences of following Christ when they were attacked on the night of March 11th, and then again the next morning. Kama Sodi and his wife were praying together before bedtime, as was their habit, when villagers shouted death threats and then stormed into the house. Kama's wife, Bhimeshwari, was able to protect their two young children, who were pleading with the attackers to stop. The mob agreed to cease if Kama would renounce his faith in Christ and turn to their tribal religion. He refused to do so.
The next morning, the mob consisting of approximately 60 people returned and again began to beat him until he fell unconscious. The assailants then threw the family's belongings out of the house and ordered them to leave the village.
Christian leaders arrived to find Kama unresponsive and arranged for him to be taken to hospital. Though doctors were not sure if he would awaken, he regained consciousness after a day and a half. Due to the discovery of blood clots in his brain, doctors wanted him to remain hospitalized so they could continue monitoring him closely. A week later, Kama was released but instructed to not return to work until he fully recovered.
When the family returned to the village, they found most of their possessions missing and mud covering their food. As the family is very poor, Bhimeshwari was hoping to pick up extra work to pay for their daily needs, but no one is willing to hire her. The family has been ostracized by the other villagers. Despite the intense opposition they are facing, the Sodi family is trusting in the Lord. "I have no money or food to feed my children, but I have Jesus, and He will provide for us," declares Bhimeshwari.
For more information on the difficulties facing Christians in India, and to review other incidents of persecution in this country, visit our country report.
Please lift up Kama, Bhimeshwari and their children in your prayers. Ask God to provide them needed protection, provision and peace as they faithfully honour Him through their lives and testimony. Pray that they will continue to experience the inner joy that comes with serving Christ, despite the harsh repercussions they have encountered. May the Lord not only provide for their daily needs and complete healing for Kama, but also use their Christian witness to reach those opposed to the Gospel. Intercede for the opposing villagers, asking that they be drawn to the eternal hope of Christ and surrender their lives to Him as well.