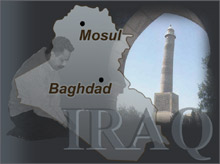 Christians in Iraq have again been the targets of deadly violence in recent days, including bombings and gunfire. On November 11, suspected Islamist militants detonated 11 bombs in Christian suburbs across the Iraqi capital of Baghdad, indiscriminately targeting shops and homes. At least five Christians were killed and approximately 33 injured. Fresh violence also erupted in predominately Christian areas of Iraq on the evening of November 15. At least one person was killed and seven others injured when two car bombs exploded in Baghdad. Also that evening, gunmen invaded the homes of Christian families in the eastern region of Mosul and killed two men. The following afternoon, a Christian man and his six-year-old daughter were killed by a car bomb in Mosul.
This recent and devastating wave of violence comes but a few weeks after a hostage siege and bombing in a Baghdad cathedral that left several Christians dead and many others wounded (click here for more).
Pray for God's peace for those mourning loved ones lost in these attacks. Ask God to make our Iraqi brothers and sisters strong so that they can share His love and Word without hesitation or fear, even in an environment of upheaval and danger. Pray that those responsible for these attacks will be moved by the Spirit to repent of their actions and accept Jesus as their Lord.
For more on trials facing Christians in Iraq, go to the Iraq Country Report.