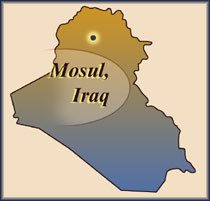 This week, three more believers were killed in Mosul, Iraq -- the latest in a series of recent deadly attacks on the country's Christian community (click here for more details). On November 22, assailants entered a shop owned by two Christian welders -- brothers, Saad Hanna, 43, and Waad Hanna, 40 -- and shot them. Waad was killed instantly and Saad succumbed to his injuries two hours later. The same day, police found an elderly Christian woman strangled in her Mosul home.
Pray for comfort for those mourning the loss of these believers. Pray for strength of faith and endurance of hope for Iraqi's beleaguered Christians. Ask God to bring His peace to Iraq.
You can find out more about how Christians in Iraq are suffering for their faith at the Iraq Country Report.