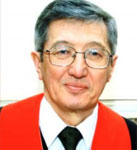 Bakhytzhan Kashkumbayev
Pastor Bakhytzhan Kashkumbayev, who has been imprisoned for about five months in Astana, has been placed under house arrest for the remainder of his pre-trial detention, according to a court decision. The 66-year-old pastor has not seen his wife Alfiya or any other family members since his May 17th arrest. (For a previous report providing more details on his arrest, please click here.)
While under house arrest, Pastor Bakhytzhan is "banned from associating with anyone apart from close relatives living with him, receiving and sending letters, holding conversations with the use of any communication devices, and is only able to leave his home for medical appointments."
The pastor was initially arrested on charges of "causing considerable harm to the psychological health" of a church member and accused of using "stupefying substances" on other members of the church, a reference made to the red tea that was used as a non-alcoholic Communion wine. However, one member insists that Pastor Bakhytzhan "is totally innocent and has not harmed my health at all." The pre-trial detention is scheduled to last until November 17th.
Thank the Lord for the opportunity Pastor Bakhytzhan has been given to return home for the duration of his pre-trial detention. In the interim, please pray for God's favour and intervention in this case to ensure a favourable outcome. May He also strengthen the faith of Pastor Bakhytzhan, his family and the congregation members of the church...while using these circumstances to accomplish His greater plans.