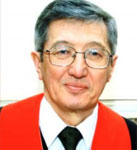 Bakhytzhan Kashkumbayev
Eight months after his arrest, retired pastor Bakhytzhan Kashkumbayev arrived in court on January 22nd for the first hearing in his criminal trial. He faces charges of harming health, inciting hatred, propagating extremism and leading an organization that harms others. The charges carry a maximum penalty of about six to ten years' imprisonment each. He denies all wrongdoing. (For more details on his arrest, click here.)
The 67-year-old pastor has gone deaf in one ear and has suffered heart problems during the long months he has spent in prison and a psychiatric hospital. His trial will resume after January 31st.
Elsewhere in the country, two Christians were imprisoned for 48 hours, beginning on January 9th, for refusing to pay fines that were given as punishment for exercising their freedom of religion "without state permission." Numerous fines continue to be levied for this "offence."
Pray the Lord's favour will be upon Pastor Bakhytzhan and his legal team, and that the truth of his case will be brought to light. May he soon be acquitted of all charges and released. Pray, too, that God will completely heal and restore him. As others face fines or even imprisonment for exercising their religious freedom, ask God to use them and their suffering to strengthen fellow believers and encourage the growth of His church in Kazakhstan.