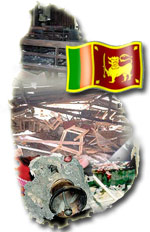 Two incidents in recent weeks demonstrate that religious tensions in Sri Lanka have not abated. According to a report from the National Christian Evangelical Alliance of Sri Lanka (NCEASL), a church in Kayankerny in the Batticaloa District was damaged in the early morning of July 7 when dynamite detonated in three places around the foundation of a newly constructed building. The walls, roof and floor were damaged.
On July 16, the Holy Cross Church in the town of Pulasthigama was attacked by a group of hooded men who began smashing the furnishings. A fire was set in the church that complete destroyed the building. Two young men in the building at the time and were beaten. One, Angel Rukmal Fernando, 19, was admitted to the Polonnaruwa hospital. The attack was widely condemned by politicians and religious leaders, including the Buddhist leader, Pahamune Sumangala Thero.
Pray that Christians in Sri Lanka will be free to practice their faith without fear of violence by those opposed to their message. Pray that those fighting against the Church will see the love of Christ in the lives of believers and come to repentance and faith in the Lord.
For more information on the persecution of Christians in Sri Lanka, click here. Two video reports on Sri Lanka are also available for viewing on www.vomcanada.com.