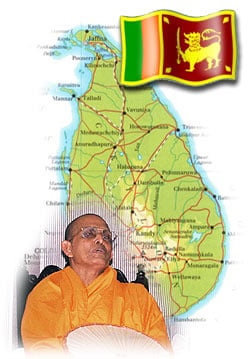 Ven. Ellawala Methananda Thera
President of the JHU
In a strategic move, while public attention in Sri Lanka is focused on upcoming presidential elections, a constitutional amendment aimed at making Buddhism the official religion of Sri Lanka has been put on the Parliamentary Order Paper for a second reading on October 4 by the Jathika Hela Urumaya (JHU). The JHU is a party made up entirely of Buddhist monks. Earlier the Sri Lankan Supreme Court ruled that parts of this amendment were unconstitutional. Consequently, a two-thirds majority vote of parliament and a national referendum would be required for the amendment to pass.
The National Christian Evangelical Alliance of Sri Lanka (NCEASL) is concerned that the legislation may pass virtually unnoticed, with attention diverted to the upcoming elections. The NCEASL is calling for advocacy and has published a document outlining their concerns with the proposed amendment. Contact information for Sri Lankan government officials through www.srilankanchristians.com.
For more information on Sri Lanka and the challenges facing Christians there, click here. An extensive video report released earlier this year by The Voice of the Martyrs entitled, "Faith Under Fire: Sri Lanka," is available for viewing on www.vomcanada.com.