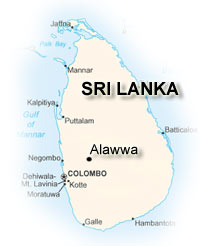 Members of the King's Revival Church in Alawwa, Sri Lanka were making their way to church on Christmas Day when a mob stopped them and threatened them with violence if they did not turn back. According to a December 29 report from the National Christian Evangelical Alliance of Sri Lanka (NCEASL), many fled in fear while those who attempted to continue on to the church were beaten. Four believers were injured, including a pregnant woman. One man required treatment at a local hospital. It is believed that a local political organizer is responsible for the attacks. The pastor of the church had been warned earlier to not have a Christmas Day service.
Pray that there will be true justice and that the rights of Sri Lankan Christians to worship freely will be respected. Pray for full healing for those involved in the attack. Pray also that the congregation will experience a renewed sense of determination to share Christ with their lost neighbors.
For more information on Sri Lanka and the persecution of Christians there, click here. Video reports are also available on www.vomcanada.com.