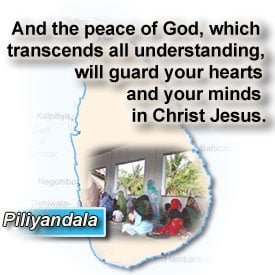 As approximately twenty believers gathered for worship at the Methodist Church in Piliyandala, Sri Lanka on April 23, Buddhist protesters drove along the streets with loud speakers, calling people to demonstrate against the "anti-Buddhist" Christians. As many as one hundred area residents gathered on the street by the church shouting anti-Christian slogans. Three police officers present prevented most of them from entering the church, but two monks and another man managed to get into the building and started demanding that the worship service end immediately. Seeing that the situation threatened to spiral out of control, the police requested that the pastors conclude the service as soon as possible. Not wanting to aggravate the situation, the church leaders complied.
While this was happening, the mob outside let deflated vehicle tires, toppled motorcycles and smashed the windshields of a car and van used by the ministry team. Three of the church leaders were struck as they left the building. One of the church leaders has been ordered to appear in court on April 26 regarding the incident.
Pray that the peace of God will rule the hearts of the believers in Piliyandala. Pray that they will be enabled to rejoice in the face of their trials and maintain the gentleness of Christ (Philippians 4:4-7). Pray that they will continue to boldly proclaim the truth of the gospel (2 Tim. 4:16-18).
For more information on the persecution of Christians in Sri Lanka, click here. Excerpts from a video feature, "Faith Under Fire: Sri Lanka" is available for viewing on VOMC's multimedia website, www.vomcanada.com. The full video is available in VHS or DVD through our online catalog.