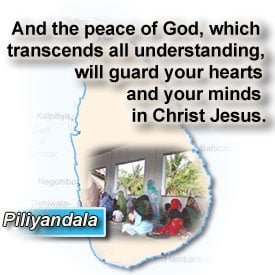 On May 2, the United Christian Fellowship in Poddala, Sri Lanka began construction on a community hall on a piece of land that the church had purchased. Four days later, a mob led by a Buddhist monk approached a construction worker and the pastor demanding the construction cease or it would be destroyed. Both were verbally abused and the construction worker was physically assaulted. Construction has ceased for fear of further attacks and the incident has been reported to the police.
A Methodist church in Piliyandala that was attacked on April 23 (for details, click here) continues to face difficulties. According to a May 10 report from the National Christian Evangelical Alliance of Sri Lanka (NCEASL), members of the congregation have been prevented from attending services because of threats against them, even though a magistrate has ruled that the church has the right to meet.
Pray that the construction of the fellowship hall in Piliyandala will be allowed to continue. Pray also that those whose rights to worship have been legally recognized will be able to attend services without fear.
For more information on Sri Lanka and the trials facing Christians there, click here.