In the early morning of December 18, a combined team of army, air force and police raided a Muslim militant stronghold in the city of Jos, Nigeria in order to pre-empt attacks planned on Christians during the Christmas holidays. According to a December 30 report from Compass Direct, the Nigerian government ordered the raid after receiving reports that militants from Niger and Cameroon and come to join in attacks on Christians on Christmas Day.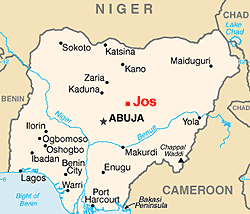 In the attack, five militants were killed and one hundred and seventy-five were arrested, including their leader, Mallam Ibrahim Mai-Mai. Some military and police personnel suffered gunshot and machete wounds in the attack. Mallam Mai-Mai ran an Islamic school, with three hundred students. It is believed that the school was used to train Islamic militants.
Sources in Jos indicated to VOM in 2001 that foreign militants had been active in attacks on Christians in the city during the violence of September 2001 that left hundreds dead.
In a December 20 broadcast on radio and television, Plateau Governor Joshua Dariye warned that patience with Islamic militants was running out and they would deal decisively with all those who threaten peace and order.


For the past several years, the Christmas season has been a time of violence against Christians around the world. Praise God with us that this season has thus far been relatively calm in 2003, in part because of actions like that in Nigeria. Pray that Nigerian authorities will carry out their promises to enforce peace.
For more information on persecution in Nigeria, click here.