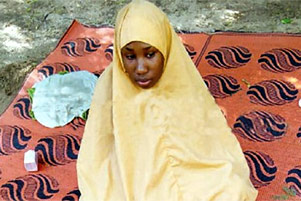 More than a month ago, rumours began to spread that Leah Sharibu, a Christian teen who was kidnapped in February 2018, had been killed. At the time of that report, questions were raised about its accuracy. On August 31st, a presidential aide met with reporters, stating that Leah is still alive and that the government is working to negotiate her release. "The government is committed to her safe return, as well as all the other hostages," he assured.
Leah was kidnapped by Boko Haram terrorists, along with over a hundred other students from a school in Dapchi (see this report). While the others were released, Leah was singled out because of her Christian faith. The militants refused to release her unless she denied Christ, which she refuses to do.
Praise God for this encouraging report that Leah is still alive. Pray for her safe return in the near future. In the meantime, please continue to uphold this brave teen and her concerned family and friends as they await rescue from this terrible ordeal. May Leah's unwavering faith not only be a powerful testimony to her captors, but also to numerous others throughout Nigeria and around the world -- yielding much spiritual fruit for the glory of our Lord.