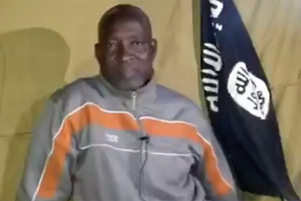 A leader of the Christian Association of Nigeria was kidnapped on January 3rd when Boko Haram raided the town of Michika which is located near the border with Cameroon. Fighters came into town with a convoy of vehicles. Nigerian soldiers readily responded and, in the confusion, town people fled into the bush. While the military drove out the attackers, killing most of them, Pastor Lawan Andimi was taken hostage as the remaining terrorists fled.
Two days following the attack, a video was released. Over the six-minute address, Pastor Lawan pleads for help from church leaders. Along with that, he recounts his trust in the sovereign help of God. "I have never been discouraged because all the conditions that one finds himself are in the hands of God," he proclaims. In order to view the English portion of the video, click here.
Pray for the soon release of Pastor Lawan and, in the interim, for his safety while in captivity. Remember his concerned family and fellow colleagues who need God's peace and encouragement in the face of such uncertainty and fear. Intercede for other Christians throughout Nigeria who are at risk of danger due to the threats of Islamic militants, including 16-year-old Leah Sharibu. In the midst of this troubling situation, may churches continue to reach out to the members of their communities with the love and grace of God.