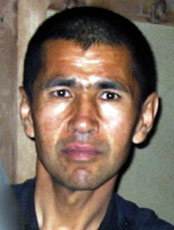 Said Musa released!
After intense diplomatic pressure, authorities have released Said Musa, 46, a convert from Islam to Christianity who was imprisoned in May 2010 on charges of apostasy (for more information, click here). The date of Said's release was not clear at last report, but it is known that he left the country on February 21. Said wrote a series of letters from his prison cell. In the last letter, dated February 13, he revealed that representatives of embassies in Kabul visited him and offered him asylum. He was later taken to another room where three Afghan officials tried to convince him to recant his faith, promising him that he would be released within 24 hours if he complied. Said, however, stood firm in his faith. "I told them I cannot [follow] Islam," he wrote in his letter. "I am Jesus Christ's servant. They pushed me much and much. I refused their demands." Details of Said's release remained confidential in order to protect him and his family, who reportedly still remain in danger.
Praise the Lord for Said's release! Pray the Lord will swiftly reconnect him with his family. Pray that he and his family will continue to look to Christ as their provider, guardian and Saviour.
You can find out more about the sufferings of Christians in Afghanistan at the Afghanistan Country Report.