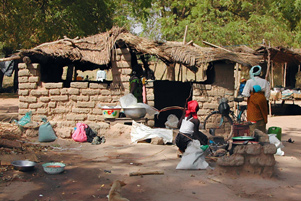 Gunmen killed 24 people and left at least 18 wounded when they targeted a church service on February 16th in the village of Pansi. Upon entering, the attackers separated the men from the women, as well as locals from non-residents, choosing to kill resident men -- including the church pastor.
After setting the church building on fire, the perpetrators looted local shops and forced three kidnapped youths to transport the stolen goods. Villagers fled to the nearby town of Sebba for safety, but the militants' attacks of violence had taken place there as well.
Earlier this month, other alarming incidents occurred in the same area. Pastor Tindano Omar and five of his family members were forced from their home in Sebba on February 10th. Prior to the abduction, a church deacon had been murdered, and it was his car that had subsequently been used to kidnap the pastor's family. The bodies of Pastor Tindano, his son and two nephews were found three days later. Fortunately, the pastor's two daughters were released unharmed.
Violence in northern Burkina Faso has increased at an alarming rate, as jihadists have sought to use any link to the government or Christianity as justification for murder. Over 1,300 civilians were targeted last year alone, which works out statistically to more than seven times the total of the previous year. To review a previously posted report on the attacks that took place earlier this month, go to this report.
Please lift up the Christians of Burkina Faso in your prayers, as they face ongoing threats because of their faith. Pray that the authorities will be able to thwart any further attacks and provide the country's innocent civilians needed protection. Intercede for the attackers as well, asking God to reveal to them His truths. May they see the compassion of Christ reflected in the countenance of His people -- and the eternal hope that He alone provides -- so that they too may acknowledge their need for God's mercy, forgiveness and salvation.