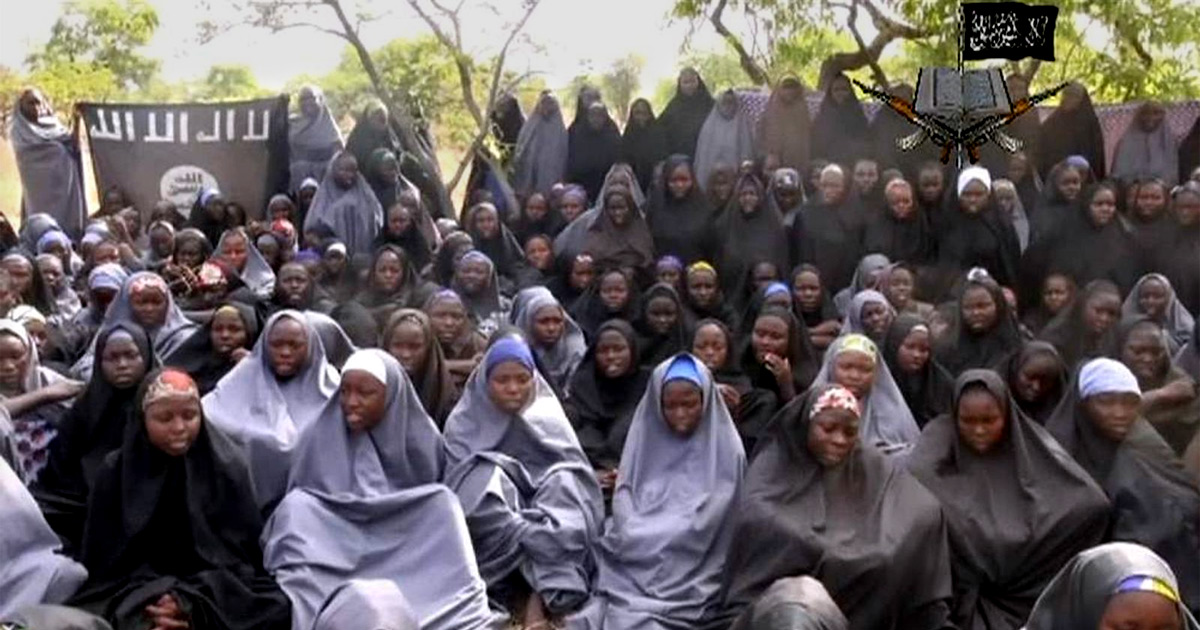 After more than eight years in captivity, two of the girls kidnapped from a school in Chibok, Nigeria, have managed to gain their freedom. Hauwa Joseph and Mary Douda were among the more than 270 girls who were abducted by Boko Haram terrorists on April 14th, 2014 (see this report).
On June 21st, the Nigerian military presented both of the recently rescued young women, along with the babies born to them during captivity. Hauwa was found among other civilians near Barna on June 12th. Mary turned herself over to troops in Ngoshe, near the border with Cameroon, on June 14th. In both cases, the girls had been forced to marry their captors while in captivity.
Hauwa was only nine years old when she was kidnapped in 2014. "I was married off not long ago and had this child," she told reporters. However, her husband was recently killed in a military raid, leaving her to fend for herself and their 14-month-old child. "We were abandoned; no one cared to look after us. We were not being fed," she recounted.
Mary was 18 years old when she was captured. Throughout her captivity, she had been married at different times to Boko Haram fighters. "They would starve and beat you if you refused to pray (Islamic prayers)," she recalled while reflecting on her life in the rebel encampment. When she decided to flee, she convinced her husband that she was going to visit another Chibok girl near Ngoshe. With the help of an elderly man living outside the village, Mary travelled to Ngoshe where she surrendered to Nigeria's military troops.
Speaking of the schoolgirls who are still missing, Mary stated: "All the remaining Chibok girls have been married with children. I left more than 20 of them in Sambisa." She was able to proclaim, "I'm so happy I'm back!" It is believed that Mary's mention of Sambisa refers to the Gazuwa Camp in the Sambisa forest, the main headquarters for a faction of the Boko Haram terrorists.
Praise God for the safe deliverance of Mary, Hauwa and their children. Pray for these young women and their families as they look forward to the years ahead, asking the Lord to provide emotional support and healing as they integrate back into their communities. Additionally, please pray for the safe rescue of the many other girls still in captivity. May Nigeria's governing leaders take the necessary actions to ensure their safety and restoration as well, so they can be joyfully reunited with their families.