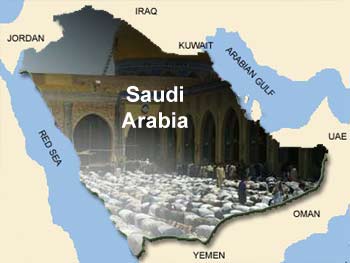 One week after a prayer meeting in Riyadh was raided and forty Christians arrested, a second house church meeting was broken up by the muttawa (religious police) on April 29 and five leaders taken into custody. According to a May 4 report from Compass Direct, sixty Ethiopian and Eritrean Christians had gathered together for prayer when the muttawa, together with high-ranking Muslim sheikhs, burst into the meeting, confiscating forty Bibles and a cross necklace before warning them to never meet there for prayer again. Those detained have been identified as Yemane Gebre Loul, Gazai Zarom, Msfen Tekle, Yonas Tekle, and Teklu Mola. For the first few days, they were allowed telephone contact with their families and one man's wife was permitted to visit. However, on March 3, they were reportedly transferred to prison facilities of the Ministry of the Interior. There has been no communication with the prisoners since.
Pray for safety for those arrested, as well as that of their families. Pray that these men will be released from prison. Pray that they will be able to share their faith, through their words and actions, while in prison.
For more information the persecution of Christians in Saudi Arabia, click here.