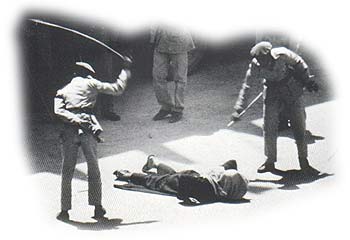 A public school teacher has been sentenced to forty months in prison and 750 lashes for "mocking religion" after he discussed the Bible and allegedly praised Jews. The Al-Madina newspaper reported on November 13 that Mohammad al-Harbi was taken to court by his colleagues and students where he was accused of, and charged with, promoting a "dubious ideology, mocking religion, saying the Jews were right, discussing the Gospel and preventing students from leaving class to wash for prayer." Al-Harbi intends to appeal the verdict.
This is one of the many incidents of blatant disregard for any religious freedom in Saudi Arabia. The U.S. Commission on Religious Freedom has called Saudi Arabia with world's worst violator of religious liberties. The country's laws forbid the public practice of any religion other than the strict Wahhabi form of Islam. Included in this week's weblog is a guest editorial by Dennis Prager, entitled, "Five Questions Non-Muslims Would Like Answered." To read his editorial, click here.
Pray that Al-Harbi's appeal will be successful. Thank God for the courage demonstrated by this teacher. Pray that God will work miraculously to bring about freedom of belief and expression in Saudi Arabia. Pray that the Holy Spirit will penetrate the hearts of people in Saudi Arabia and that they will turn to Him regardless of extreme pressure to acquiesce to the one accepted religion.
For more information on the persecution of Christians in Saudi Arabia, click here.
(Source: The Washington Times)