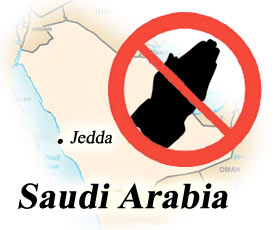 On June 9, ten Saudi police officers armed with wooden clubs raided a private worship gathering in Jeddah, according to a June 15 report from Compass Direct. More than 100 foreign Christians had gathered in a home for worship when the police officers entered. The Christians invited the police to be seated and the officers waited until the end of the three-hour service before arresting the four leaders: Mekbeb Telahun and Masai Wendewesen from Ethiopia and Fekre Gebremedhin and Dawit Uqbay from Eritrea. The four are now being held in the Jeddah Terhil (Deportation) Center.
Typically, Christians arrested in Saudi Arabia for holding private worship services are deported to their countries of origin. However, they are sometimes detained for several days or weeks in wretched conditions before being allowed to leave the country. A Christian who has spoken to the men by telephone reports that they are doing well, but did not know if they were being interrogated or mistreated.
Members of the Saudi royal family have insisted that Christians are free to worship within their own homes. All public worship, other than Islamic, is strictly prohibited.
Pray that, like Paul, the imprisonment of these men will result in the advancement of God's kingdom (Philippians 1:12). Pray that they will be enabled to rejoice in all that is happening, knowing that Christ will be glorified and that theirs is the kingdom of heaven (1 Peter 4:12-13, Matthew 5:10).
For more information on the persecution of Christians in Saudi Arabia, click here. See Glenn Penner's weblog on whether Saudi Arabia can really be expected to be an ally in stopping Islamist terrorism.