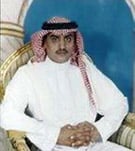 On January 13, Saudi police arrested Hamoud Bin Saleh (28) and blocked access to his online blog, according to reports from The Arabic Network for Human Rights Information. Saleh had used his blog to express his opinion on religious issues and discuss his conversion from Islam to Christianity. Saleh was previously arrested for his faith in 2004 and imprisoned for nine months. He was also arrested and briefly detained in November 2008 and was released shortly before the Saudi-sponsored interfaith dialogue conference held November 12-13 at the UN Headquarters in New York. Sources believe officials released him to avoid tarnishing Saudi Arabia's image of religious tolerance, as at the conference King Abdullah spoke out against mankind's "preoccupation with differences between the followers of religions." At last report, Saleh was detained in the Eleisha political prison in Riyadh, the nation's capital.
Pray for the release of Saleh. Pray for strength and protection for him in prison. Ask God to enable him to grow in Christlikeness through the opposition he faces for his faith (James 1:2-4).
To learn more about those suffering for Christ in Saudi Arabia, click here.