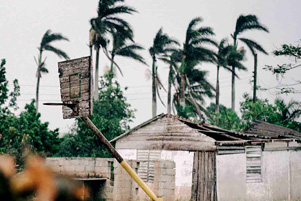 A Cuban pastor has been repeatedly threatened and harassed for his efforts to repair church buildings that were damaged during the 2018 hurricane. In an effort to continue without further interference from authorities, he and other believers have been working on the repairs through the night. Despite this, the pastor was recently threatened by one of the opposing neighbours who approached him with a machete.
Adding to the mounting pressure, local officials have denied the pastor car registration and the right to put up a sign for his own church. Members of the Cuban government consider the repairs illegal because they do not recognize any church buildings constructed after the 1959 revolution. These buildings have served as places of worship for many years, even though some of them have no walls or proper floors. To learn more about Cuba, go to our country report.
Pray that the threatened pastor, and others representing the church in Cuba, will remain faithful in the midst of persecution. Ask God to strengthen the resolve of this pastor, and all who are assisting him, so the restoration work that has already begun can be fully completed. Even more importantly, may their endeavours to proclaim the Gospel continue so that many more will be reached throughout the nation, including Cuba's governing authorities.