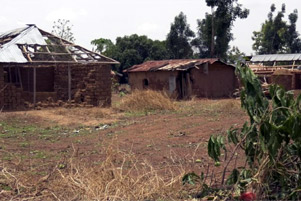 A pregnant mother was killed in the village of Ancha, Plateau State, on July 15th. Margaret Wakili, 27, was bringing food to her husband in the field when eight men, who are believed to be Fulani herdsmen, suddenly initiated an attack. The husband heard them shout, "Allahu Akbar, we have killed an infidel, and we need to kill more." That day, an elderly woman from the same village was also attacked and killed.
Prior to the two fatal tragedies in Ancha, another senseless attack had taken place in the village of Tafigana. On the evening of July 14th, Thomas Wollo was returning from choir practice with his seven-year-old son Nggwe when they were both killed and beheaded.
These alarming reports represent only a small sampling of the terrible violence that is gripping the hearts of Christians in Nigeria due to the unwarranted attacks of Fulani militants, as well as those perpetrated by members of the Boko Haram terrorist group. As a result, the organization, Jubilee Campaign, has petitioned the International Criminal Court to indict Boko Haram for genocide. The same report also documents more than 50 attacks committed by Fulani herdsmen during the first six months of 2019 alone.
Nigeria's government has been criticized by Amnesty International for its inaction. The disproportionate number of Christians being killed in Nigeria demonstrates the religious nature of the violence. Rev. Gideon Para-Mallam states that the violence has led to a "virtual abandonment of missions and evangelism in some affected areas." Left unchecked, he writes, "the death of the church (in Nigeria) could be a matter of years away." For more information on the suffering of Nigeria's Christians, go to our country report.
Please prayerfully remember the great number of grieving families and friends now suffering the loss of innocent loved ones who have been ruthlessly slaughtered in Nigeria for their faith. Pray that Christians throughout the region will have God's protection and wisdom in order that they be equipped to properly handle the ongoing violence. May the government and military leadership of Nigeria take the necessary steps to bring this violence to an end. For an even greater lasting solution, may the hearts of the militants involved be radically transformed spiritually by God's overpowering presence, truth and love.