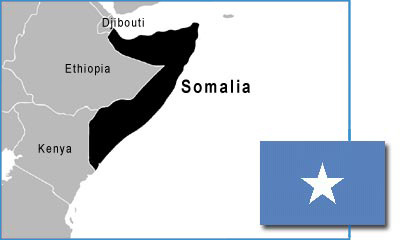 Islamic extremists belonging to the al Shabaab extremist group in Somalia beheaded a young Christian man just outside Mogadishu last month. Twenty-six-year-old Zakaria Hussein Omar, who had worked for a Christian humanitarian organization banned by al Shabaab, was murdered on January 2 in Cee-carfiid village. The body of the young man lay undiscovered for about 20 hours before nomads came upon his remains. A close friend who identified Omar's body said Omar had confided in him that he feared for his life when the organization he was working with was banned by the al Shabaab. Omar, an accountant, had converted to Christianity seven years ago while he was living in Ethiopia. He is survived by his wife, his parents, a brother and four sisters.
Last September, militants also decapitated a young Christian man, Guled Jama Muktar, in his home near Mogadishu (for more, click here). Earlier that month, the terrorists beheaded a Christian convert, Juma Nuradin Kamil, in south-western Somalia (click here for more information).
The Islamic extremists seek to impose a strict version of Shariah (Islamic law), ridding the country of Christianity. The country's president, Sheikh Sharif Sheik Ahmed, has embraced a version of Shariah that mandates the death penalty for those who leave Islam.
Please pray that Omar's wife and family will find peace and rest in Christ. Please pray that the Lord will intercede against the violence facing our brothers and sisters in Somalia. Pray that the gospel will spread like never before in Somalia.
Go to the Somalia Country Report for more on Somalia's suffering Church.